Cybernet Awarded AUSA Sunshine Chapter's Dave Halloran Award
June 29, 2023 – Orlando, Florida. Cybernet was awarded the prestigious DavidG. Halloran Award for Best Corporate Member Support by the Sunshine Chapter of the Association of the United States Army at this year's 248th Army Birthday Ball on June 24.
Accepting the award on the company's behalf was Cybernet Cybersecurity Division Senior Business Development Manager, Robert Biggers. Biggers is extremely supportive of AUSA activities in Orlando and over the years has made Cybernet a recognizable name in the modeling, simulation, and training industry.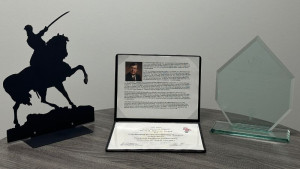 "Receiving the Halloran award is a great honor," said Biggers. "It acknowledges our team's dedicated efforts and highlights the importance we place on making a positive
impact in our community. We look forward to continuing our mission of serving others and making a difference. I'm proud to be part of a company that values community engagement and grateful for the opportunity to contribute to something meaningful."
The David G. Halloran Award was established in 2009. The title of this award recognizes Dave
Halloran, a former Naval aviator who has been a strong and steady leader for over 40 years, who personally started, grew, led and guided three different AUSA chapters with strong corporate support.
Dave clearly understood that strong corporate support was essential to AUSA chapters flourishing and providing meaningful programs in support of the entire Army family.  It was because of Dave's successful implementation of this concept and his untiring devotion to AUSA at the chapter level for over 50 years that the Board of Governors decided to name the award for Best Corporate Member Support in his honor.  His selfless, modest leadership, good humor and dedicated service have been a blessing to both AUSA and to our Army at large.
Retired Army colonel and Sunshine Chapter president, Harry Buhl, said, "As the Army's private organization in Central Florida, the Sunshine Chapter of AUSA is honored to bring together a team of community, industry, and government partners to celebrate the Army's Birthday each year.  We were honored this year with many prestigious guests and a ballroom filled with our Army family."
Biggers said that for those in attendance, the AUSA Army Ball was an absolute delight, filled with joy and camaraderie. "The celebration showcased the strength and unity of the Army, leaving everyone inspired and grateful for those that served."