National Cyber Summit Provides Opportunity for Learning, Networking
The 13th annual National Cyber Summit (NCS) w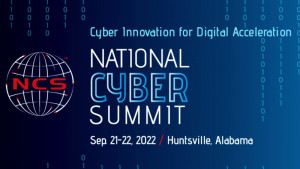 ill take place at the Von Braun Center in Huntsville, Alabama, from Sept. 21 to Sept. 22, 2022.
The NCS brings cyber professionals from government, industry and academia together to share ideas and discuss the latest innovations, tools and services, with special emphasis on cybersecurity technology. The summit will also focus on collaboration, innovation and education, providing professionals and rising leaders in the cyber field unique educational and workforce development opportunities.
Various industries are represented, to include genetic research, healthcare and energy, among others. Keynote presentations will feature speakers with extensive cybersecurity experience from government, military and industry.
"Whether you're a senior-level cyber professional, or you're just beginning your career, if you're involved with cybersecurity in any way, this summit should be on your calendar," said Robert Biggers, Senior Cybersecurity Business Development Manager for Cybernet Systems Corporation. "Dangers can come from peer/near-peer adversaries or online criminals, and cyber threats are constantly evolving. The presentations and discussions featured at NCS give professionals in the field the latest information on threats and innovations they need to stay current and relevant."
The University of Alabama in Huntsville, the North Alabama Chapter of the Information Systems Security Association, Auburn University Research, and Cyber Huntsville Corporation will host this year's summit.
For registration information, go to: https://www.nationalcybersummit.com/Register.